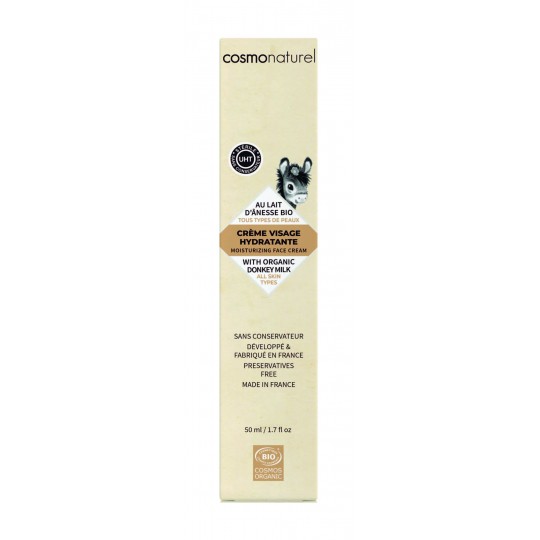 Organický pleťový krém s oslím mlékemOrganic Face Cream with Donkey Milk
Cosmo Naturel
Through this organic-certified cream, discover the benefits of donkey milk combined with those of several organic vegetable oils, organic shea butter and organic aloe vera juice.   
Format
Liquid
Use 
Body / Face
Product
Cream
Benefit
Regenerate
Range
Donkey Milk
Product Size
50 ml
The Advantage 

Made in France

Organic-certified - COSMOS ORGANIC
Cosmo Naturel
V tomto krému s certifikátem BIO objevíte blahodárné účinky oslího mléka v kombinaci s několika organickými rostlinnými oleji, organickým bambuckým máslem a organickou šťávou z aloe vera.     
Formát
Tekutý
Použití
Pleť
Produkt
Krém
Účinek
Regeneruje
Řada
Oslí mléko
Velikost
50 ml
Výhoda 

Made in France

Organic-certified - COSMOS ORGANIC
Složení & Použití Ingredients & Use
It contains 100% ingredients of natural origin, and 34% of all ingredients are from organic agriculture.*
Its high level of protein gives it tightening properties that help diminish wrinkles. This cream contains vitamins C and E with antioxidant properties to fight signs of ageing.
Very rich in minerals and trace elements: calcium, magnesium, phosphorus, sodium, iron, and zinc. These compounds have an impact on the skin by contributing to its balance, regeneration and protection.
Along with vitamins, they stimulate collagen synthesis, maintain good elasticity and keep your skin moisturised. This organic-certified rich cream is easily absorbed without leaving a greasy film.
*This product is Cosmos Organic certified by Cosmecert according to the Cosmos standard available at: https://cosmos-standard.org
Active Ingredients
Organic Shea Butter helps soothe and calm irritated skin and supports skin healing and regeneration. Consisting primarily of fatty acids, it provides nourishing and moisturising properties. It also contains vitamin E, a powerful antioxidant, which gives it healing and softening properties and helps promote cell regeneration.
Aloe Barbadensis Miller (Aloe Vera) Juice - Organically farmed, it contains more than 75 active compounds, 20 minerals, 20 amino acids and 12 vitamins and is naturally rich in water and polysaccharides, giving it moisturising and soothing properties. It adds freshness and softness to all skin types, including the most sensitive.
Donkey Milk is known to revitalise and regenerate the skin. Donkey milk is perfectly suited to sensitive skin. 
Ingredients
AQUA, DONKEY MILK*, GLYCERYL STEARATE, GLYCERIN**, SIMMONDSIA CHINENSIS (JOJOBA) SEED OIL*, ALOE BARBADENSIS LEAF JUICE*, BUTYROSPERMUM PARKII (SHEA) BUTTER*, SESAMUM INDICUM (SESAME) SEED OIL*, HELIANTHUS ANNUUS (SUNFLOWER) SEED OIL*, CETYL PALMITATE, PRUNUS AMYGDALUS DULCIS (SWEET ALMOND) OIL*, PRUNUS ARMENIACA (APRICOT) KERNEL OIL*, SODIUM STEAROYL GLUTAMATE, XANTHAN GUM, FRAGRANCE*, CITRIC ACID, CITRAL***, CITRONELLOL***, GERANIOL***, LINALOOL***.
WATER, ORGANIC FRESH DONKEY MILK*, PLANT-ORIGIN EMOLLIENT AGENT, ORGANIC PLANT GLYCERINE**, ORGANIC JOJOBA OIL*, ORGANIC SHEA BUTTER*, ORGANIC SESAME*, ORGANIC SUNFLOWER* AND ORGANIC APRICOT* OILS, PLANT-ORIGIN EMULSIFYING AGENTS, XANTHAN GUM, 100% ORGANIC FRAGRANCE*, CITRIC ACID (NATURAL-ORIGIN PH REGULATOR).
*Ingredient from organic agriculture
**Made using organic ingredients
***Substance naturally found in essential oils
Directions for use
Apply in the morning and evening to clean, dry skin.
Airless bottle & pump with ultra-efficient closure system
The recyclable plastic pump bottle features a system that lets nothing through. As soon as the pump is released, the bottle closes again to keep air from entering, thereby eliminating any risk of retro-contamination. This cutting-edge technology protects the formula from environmental contamination and microbes throughout its period of use.
Storage instructions 
This product can be used for up to 6 months after the first application
Obsahuje 100 % složek přírodního původu a 34 % všech složek pochází z ekologického zemědělství.*
Vysoký obsah bílkovin mu dodává vypínací vlastnosti, které pomáhají redukovat vrásky. Tento krém obsahuje vitaminy C a E s antioxidačními vlastnostmi, které bojují proti známkám stárnutí.
Velmi bohatý na minerály a stopové prvky: vápník, hořčík, fosfor, sodík, železo a zinek. Tyto látky mají vliv na pokožku tím, že přispívají k její rovnováze, regeneraci a ochraně.
Spolu s vitaminy stimulují syntézu kolagenu, udržují dobrou elasticitu a udržují pokožku hydratovanou. Tento bohatý krém s certifikátem BIO se snadno vstřebává a nezanechává mastný film.
*Tento výrobek je certifikován Cosmos Organic podle normy Cosmecert, která je k dispozici na: https://cosmos-standard.org.
Aktivní složky
Organické bambucké máslo pomáhá zklidnit a uklidnit podrážděnou pokožku a podporuje její hojení a regeneraci. Skládá se převážně z mastných kyselin a poskytuje vyživující a hydratační vlastnosti. Obsahuje také vitamin E, silný antioxidant, který mu dodává hojivé a zvláčňující vlastnosti a pomáhá podporovat regeneraci buněk.
Šťáva z Aloe Barbadensis Miller (Aloe Vera) - ekologicky pěstovaná rostlina obsahuje více než 75 účinných látek, 20 minerálů, 20 aminokyselin a 12 vitaminů a je přirozeně bohatá na vodu a polysacharidy, díky čemuž má hydratační a zklidňující vlastnosti. Dodává svěžest a hebkost všem typům pleti, včetně té nejcitlivější.
Oslí mléko je známé tím, že revitalizuje a regeneruje pokožku. Oslí mléko je dokonale vhodné pro citlivou pleť.
Složení
VODA, OSLÍ MLÉKO*, GLYCERYL STEARÁT, GLYCERIN**, OLEJ ZE SEMEN JOJOBY (SIMMONDSIA CHINENSIS)*, ŠŤÁVA Z LISTŮ ALOE BARBADENSIS*, BAMBUCKÉ MÁSLO (BUTYROSPERMUM PARKII)*, SEZAMOVÝ OLEJ (SEZAM INDICUM)*, SLUNEČNICOVÝ OLEJ (HELIANTHUS ANNUUS)*, CETYLPALMITÁT, OLEJ ZE SLADKÝCH MANDLÍ (PRUNUS AMYGDALUS DULCIS)*, OLEJ Z MERUŇKOVÝCH JADER (PRUNUS ARMENIACA)*, STEAROYLGLUTAMÁT SODNÝ, XANTANOVÁ GUMA, VŮNĚ*, KYSELINA CITRONOVÁ, CITRAL***, CITRONELLOL***, GERANIOL***, LINALOOL***.
VODA, ORGANICKÉ ČERSTVÉ OSLÍ MLÉKO*, ZVLÁČŇUJÍCÍ LÁTKA ROSTLINNÉHO PŮVODU, ORGANICKÝ ROSTLINNÝ GLYCERIN**, ORGANICKÝ JOJOBOVÝ OLEJ*, ORGANICKÉ BAMBUCKÉ MÁSLO*, ORGANICKÝ SEZAMOVÝ*, ORGANICKÝ SLUNEČNICOVÝ* A ORGANICKÝ MERUŇKOVÝ* OLEJ, EMULGÁTORY ROSTLINNÉHO PŮVODU, XANTHANOVÁ GUMA, 100% ORGANICKÁ VŮNĚ*, KYSELINA CITRONOVÁ (REGULÁTOR PH PŘÍRODNÍHO PŮVODU).
*Složka z ekologického zemědělství
**Vyrobeno z ekologických surovin
***Složka přirozeně obsažená v esenciálních olejích
Návod k použití
Aplikujte ráno a večer na čistou a suchou pokožku.
Bezvzduchová lahvička a pumpička s mimořádně účinným systémem uzavírání
Recyklovatelná plastová lahvička s pumpičkou je vybavena systémem, který nic nepropustí. Jakmile se pumpička uvolní, lahvička se opět uzavře, aby se do ní nedostal vzduch, čímž se eliminuje riziko zpětné kontaminace. Tato špičková technologie chrání přípravek před kontaminací z okolního prostředí a mikroby po celou dobu jeho používání.